No doubt 5G is coming to save a mobile world that's struggling to keep up with the explosion in data traffic. But mobile network operators must find a solution —not in 2020, but today. Blue Danube Systems, a Mountain View, California-based startup armed with a unique 3D beam-forming technology, came to the Mobile World Congress to pitch high-definition antenna systems that increase by tenfold the average LTE spectrum efficiency of a typical base station.
Mark Pinto, CEO of Blue Danube, noted that "capacity is the key issue" for every mobile network operator. To deal with "spectrum starvation," as Pinto calls it, the mobile industry has been trying a number of 5G experiments while implementing LTE carrier aggregation plans. There has been some incremental progress.
But the industry needs to increase base station capacity much more efficiently and dramatically, he explained, by allocating spectrum when and where it's most needed.
Historically, building new towers, adding more spectrum and bringing small cells were the options available for network service providers. However, Pinto said that small cells aren't spreading as fast as initially thought, largely due to cost issues associated with siting and wiring. "There are also issues in managing interferences among small cells," he added. Naturally, putting up new towers isn't cheap, either.
5G is viewed as the answer to capacity issues, "But that [standardization] is going to be a while," Pinto said. "We think we have a true breakthrough based on our proprietary VLSI design."
Blue Danube Systems believes it can offer beam-forming solutions that integrate easily with LTE at "commercially viable cost."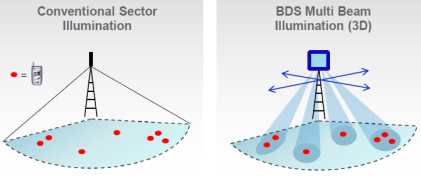 Pinto explained that there is nothing new about beam-forming itself.
The technique is used in sensor arrays for directional signal transmission or reception. It's common in military radar. The 5G technical committee is also discussing the use of massive antennas for beam-forming.
But existing implementations and emerging proposals tend to rely on a "brute- force digital approach" that requires complex algorithms, Pinto explained.
In contrast, Blue Danube has designed a true mixed-signal ASIC, whose analog technology is used to form beams. 
The company's high-definition antenna system requires "no need to use 'real-time channel estimation' or DSPs to form beams," said the company. 
Radio placed behind each array of antennas shapes radiation to form beams. As each transmitter and receiver is coordinated at Giga Hertz speed, Blue Danube's HD antenna systems quickly raster and scan the area, forming beams exactly where all the traffic is coming from, Pinto explained. 
The system, designed to form highly precise 3D beams by using a large number of array elements, deploys low-cost RF components.