No doubt 5G is coming to save a mobile world that's struggling to keep up with the explosion in data traffic. But mobile network operators must find a solution —not in 2020, but today. Blue Danube Systems, a Mountain View, California-based startup armed with a unique 3D beam-forming technology, came to the Mobile World Congress to pitch high-definition antenna systems that increase by tenfold the average LTE spectrum efficiency of a typical base station.
Assume, for example, 100 elements inside a single box. The Blue Danube's mixed-signal ASICs can keep them all synchronized and calibrated.  Meanwhile, the system's "optimization algorithms adapt to component drift and provide array resiliency," according to the startup.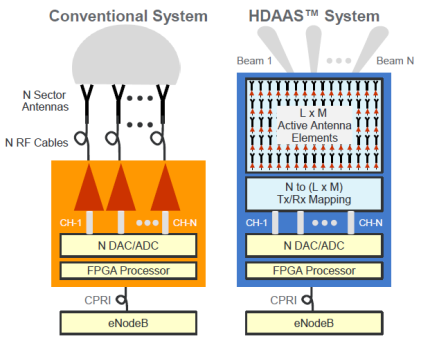 Blue Danube's solution is designed to boost signal quality by concentrating signals where users are, while focusing on frequency re-use where beams do not overlap. The company claims that beams in both transmitter and receiver provide up to 10 times improvement in capacity.
Keeping the cost down
The real key to Blue Danube's system, though, is that it can be used by mobile operators for capacity increase without making big changes in today's 4G/LTE infrastructure.   "Our technology is revolutionary but it is designed so that it's easy for operators to integrate and upgrade their systems," Pinto told EE Times.
More specifically, Blue Danube's high definition antenna systems can be quickly installed at existing antenna locations using conventional mounting techniques. They are also fully compatible with LTE 3GPP Release 8 and above, said Pinto.
Blue Danube has raised $25 million in total thus far including $16 million in Series B funding. AT&T made a strategic investment in that round.
At this point, many CTOs at service providers and equipment vendors already know Blue Danube, said Pinto. Some equipment vendors are even asking Blue Danube to collaborate on 5G's massive MIMO designs, or to supply Blue Danube's own mixed-signal ASICs to them. 
Pinto, former executive vice president of Applied Materials and a Bell Labs fellow, said that becoming a chip vendor isn't exactly his company's plan. The startup wants to sell systems – initially to the current 4G/LTE market.
Asked how quickly Blue Danube's system will be adopted by network equipment vendors, Pinto observed that some companies are struggling with a new model, under which the radio portion (supplied by Blue Danube) will be decoupled from the rest of the network gear they are selling. "They are so used to package them together."
His company's next step is network trials. Pinto said, "We've done a lot of simulations but haven't done the live network trials. We're shooting for it in the first half of 2016."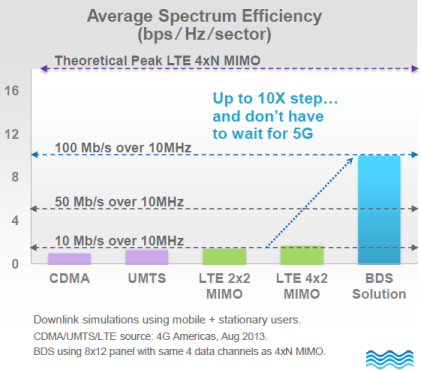 — Junko Yoshida, Chief International Correspondent, EE Times